Industry Analysis
Product code:
063426-0235
A highly focused compilation of articles on Industry Analysis. Articles may come from The RMA Journal, The Commercial Lending Newsletter, or RMA's publication, Credit Considerations.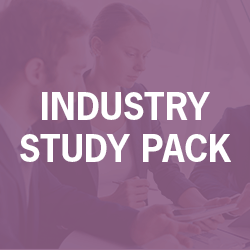 Members qualify for savings.
Log in to see if you qualify for a lower rate, or become a member to save as much as $30 or more.
Item Details
Table of Contents
Industry and the Seven Deadly Sins, Stampfli, Deborah ; Kaczanowska, Agata ; McBee, Josh, The RMA Journal, v94n9, 20-24, 5 pages Jun 2012.

The Seven Ages of Man, Beeck, Toon van, The RMA Journal, v93n8, 14-20, 7 pages May 2011.

Extra, Extra Read All About It! Media Industry Risk, Horn, George Van, The RMA Journal, v92n8, 20-25, 6 pages May 2010.

Leading and Lagging Housing-related Industries, Smith, Gavin ; Beeck, Toon Van, The RMA Journal, v92n3, 26-30, 5 pages Nov 2009.

The Good, the Bad, and the Ugly: Reviewing Industry Risk Scores for 2010, Smith, Gavin, The RMA Journal, v92n2, 19- 25, 7 pages Oct 2009.

The U.S. Recession -- Industry Winners and Losers: Where Best to Position Your Business, The RMA Journal, v91n1, 42-45, 4 pages Sep 2008.

Senior Officer Panel Addresses Industry Challenges, The RMA Journal, v90n4, 28, 1 page Dec 2007/Jan 2008.

Comptroller Dugan Answers Industry Questions, Dugan, John C. The RMA Journal, v90n4, 20, 1 page Dec 2007/Jan 2008.

A 60-Minute Approach to Learning about a Prospective Borrower and Its Industry, Berdiev, Dima N. The RMA Journal, v87n8, 38-42, 5 pages May 2005.

Get Curious! Compass Bank's Industry Watch List, The RMA Journal, v85n2, 31-33, 3 pages Oct 2002.

Industry Analysis : Keys to Identifying Similarities Among Different Business Lines, Strischek, Dev, Journal of Lending & Credit Risk Management, v80n4, 62-69, 8 pages Dec 1997 Reprinted from Jun 1997 Special Edition p. 48-55.