The Lending Decision Process Complete Series
The Lending Decision Process Complete Series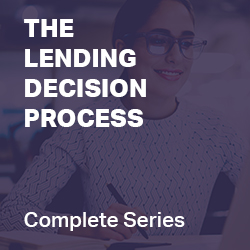 Members qualify for savings.
Log in to see if you qualify for a lower rate, or become a member to save as much as $720 or more.
Item Details
The Lending Decision Process offers a sound foundation in the basics of commercial lending and credit. Through Web-based, audiovisual features, these courses present the analytical and decision-making techniques needed to make sound credit decisions using financial accounting, financial statement analysis, and cash flow analysis. The courses are licensed as a complete library (all 17) or as six separate series. Also included is an optional Accounting Refresher course for those who need to brush up on their accounting skills. There are 18 courses included in the complete Lending Decision Process Series. They take between 35 and 50 hours to complete.
Who will benefit?
Loan trainees, credit analysts, and anyone with commercial lending authority.
You will:
Analyze the competitive forces in an industry.
Determine key success factors in the company's industry.
Explain the stages of the general business cycle and the impact economic cycles and conditions can have on different businesses.
Describe the financial behavior of industries, products and companies throughout their life cycles.
Connect a company's industry, business and product life cycles to their related financing needs.
Prepare a company overview of its products and services, customers, suppliers, facilities, management, ownership and company history.
Appraise the company's likelihood of success, considering prior risk mitigation, competitive advantages, management qualifications and effectiveness of business strategies.
Appraise the depth and breadth of management skill, experience and organization.
The series includes:
Series 1: Industry, Management, and Economic Influences
Industry and Economic Influences
Understanding the Business
Series 2: Interpreting Quality of Financial Reports and Accounts
Interpreting Reliability and Comparability of Financial Statements
Interpreting Quality and Consistency of Balance Sheet and Income Statement
Series 3: Analyzing the Company's Financial Performance and Condition
Spreading Financial Statements
Analyzing the Balance Sheet
Analyzing the Income Statement
Analyzing Combined Balance Sheets and Income Statements
Series 4: The Cash Cycle, Seasonality, and Discovering Borrowing Causes and Repayment Sources
Business Cash Cycles
Seasonality
Discovering Borrowing Causes and Repayment Sources
Series 5: Analyzing Cash Flow Statements to Measure Long-term Repayment Ability
Cash Flow Statements and Their Formats
Analyzing Cash Flow
Debt Service Coverage Measures
Series 6: Using Financial Projections to Fine Tune the Credit Analysis
Assessing Short-term Repayment Ability Using Monthly Pro Formas
Preparing and Interpreting Annual Financial Projections
Using Projections to Help Determine Appropriate Loan Type
Purchase a single user license here.
For multiple user licenses, please contact your relationship manager or ldp@rmahq.org