Credit Analysis Certificate
Prepare your Employees for the next step with the Credit Analysis Certificate.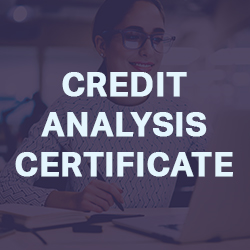 Members qualify for savings.
Log in to see if you qualify for a lower rate, or become a member to save as much as $150 or more.
Item Details
PREPARE YOUR EMPLOYEES FOR THE NEXT STEP WITH THE CREDIT ANALYSIS CERTIFICATE
How well do your employees retain what they've learned in training?
How can you validate the effectiveness of their credit risk analysis training?
WHAT IS THE CREDIT ANALYSIS CERTIFICATE?
The certificate was created to validate your bank's training outcomes/tasks. The knowledge tested represents core components of a comprehensive training curriculum.
WHO IS IT FOR?
Individuals who have fundamental credit risk analysis training and seek to, or have been asked to, demonstrate their comprehension of that training via an independent test.
HOW CAN IT BE USED?
The certificate represents a tangible confirmation of achievement and indicates an individual's readiness for the next step in a credit and/or lending career.
Your bank can use the certificate to validate its entry-level training program, as a culminating exam.
Note: Not to be used for hiring purposes.
ABOUT THE EXAM
The online exam includes 70 questions and takes approximately two hours to complete. A score of 80% or higher is required to pass. Upon passing, employees will receive the following:
A Certificate of Competency.
WHAT IS COVERED IN THE EXAM?
The exam features questions on a variety of commercial banking topics including:
Cash flow and financial statement analysis.
Structuring commercial loans.
Personal financial statement/tax return analysis.
Business tax return analysis.
Industry and market analysis.
Individuals who pass the exam demonstrate comprehension of these skills, thereby helping you validate training outcomes within your institution. All of the essentials that are tested have been determined by subject matter experts and bankers based on the following subject areas:
The subject areas and course objectives listed above are derived from specific RMA courses. The following chart explains our course acronyms (PDF).
Note: It is not mandatory to take RMA courses, however, the individual should have formal training on all of the banking objectives listed on the document above.
WHAT RESOURCES ARE AVAILABLE?
The RMA Body of Knowledge contained within RMA University Online.
The RMA Fundamentals Exam contained within RMA University Online.
These resources are meant to refresh the awareness of the participant regarding the subject matter and are not prep materials or a substitute for what was learned during formal training, on the job training, and mentoring. Training may come from a variety of sources, none of which need be an RMA offering.
WHAT KIND OF FEEDBACK WILL TEST-TAKERS RECEIVE?
For every question missed, an individual test-taker will receive the performance task that served as the basis of the question.
WHAT KIND OF FEEDBACK WILL YOUR BANK'S TEST ADMINISTRATION RECEIVE?
A list of test takers from your institution with their respective scores.
A summary of your institution's results.
WHEN DO TEST-TAKERS RECEIVE THEIR EXAM RESULTS?
Immediately upon completion of the exam. The results become official upon receipt of the Certificate, which will be sent by RMA via mail promptly after the exam has been taken.
HOW MUCH DOES IT COST?
Member Institutions: $150 per seat
Nonmember Institutions: $300 per seat
Individuals have two chances to pass the exam. They can retake the exam one time for no additional charge. Test takers have up to 180 days to take the exam a second time.
Individuals who fail to pass the exam after two tries, must re-register and pay an additional $75 fee to retake the exam.
We invite you to look over the Credit Analysis Certificate brochure (PDF). For more information, please contact your Relationship Manager.